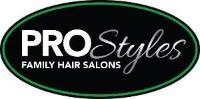 Hiring, developing, and retaining a long-term team of committed stylists is our core business strategy. Our mission statement is simple: Win/Win/Win (Clients/Stylists/Salon). It's no accident that Stylists are center point of that statement, everything depends upon them. Our salons are professionally managed with a family operated atmosphere. If you want to be part of a truly team-oriented salon organization we encourage you to consider us as your salon.

Compensation Package
We offer a competitive compensation package that allows you to determine your compensation ceiling. This package includes:
Base Salary Levels - Stylist (Entry Level), Advanced Stylist, Designer Stylist, Shift Supervisor, and Salon Manager.
Merit Increases - Your performance may allow you to increase your Base Salary Level by up to 3%/ year.Incentive Bonus - Based upon professionalism, teamwork, customer service, and retail sales.
Weekender Bonus - We recognize those stylist that commit to helping the salon during our busiest periods, the weekends. We offer a significant bonus (up to $1.00/hour) for all hours worked to those stylist that go above and beyond our minimum weekend scheduling requirements.
Salon Sales Bonus - Think of it as profit sharing. When we get really busy, we show our appreciation with cold cash. Up to and extra $1.00/hour for all stylist when the salon exceeds it's Salon Sales Bonus threshold.
Service Commission - Up to 30% of all service revenue earned above the breakeven point.
Retail Commission - Earn 15% of all product sales when you exceed the product/service percentage (10%).

Benefits Package We show our commitment to long-term employment by offering benefits that encourage it and include:
Vacation - Starts at one week per year for full-time employees, higher levels based upon tenure.
Holiday Pay - A combination of paid and unpaid holidays that help ensure you will be with your loved ones on all major holidays.
Sick Time - Accrue up to 5 paid sick days per year in accordance with the Oregon Sick Time Benefits Rules.
Dental/Vision Insurance - Full time employees benefit from our group coverage rate. Retail product discounts - Our employees purchase their personal hair care products at a 40% discount.
Family Services - Your direct family receives discounted services, some restrictions apply. Professional Tools - Quality tools help ensure a quality job. However, quality tools are expensive. That's why we provide payroll deductions for employee tool purchases that allow you to make payments on your purchases.

Employment Inquires
Start the process by either stopping by one of our salons and picking up an application or emailing your inquiry to mturner@prostylessalons.com and we will email you an application. We always inform applicants of our current openings and always follow-up any interview with a personal phone call.